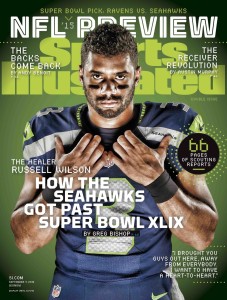 I enjoyed reading a recent article in Sports Illustrated entitled "Let it Lei", detailing the Hawaiian pre-season retreat that Russell Wilson arranged for the Seahawks. Read the article here.
I'm from the Seattle area, so the Super Bowl loss to the Patriots is still painful for me. We were literally one yard away from a second Super Bowl victory, and— well you know what happened.
Russell Wilson, in his infinite wisdom, understood that a "come to Jesus" moment was necessary.   There was clearly tension and a need for the players to get things "off their chest".
"Russell Wilson, stood before them. He had organized this trip, invited the defense and secured a private plane for 85 passengers. And he had saved one final surprise until the end. "I brought you guys out here, away from everybody," Wilson said. "I want to have a heart-to-heart."
What Russell did was similar to what a CEO or senior executive might do at the end of a failed initiative. He heard from the team's perspective, what went wrong. He gave them the freedom to say anything they wanted, even though some of the blame was aimed at him.  He allowed them to blame each other and the people in "leadership" (i.e., Pete Carroll).
For 45 minutes members of both offense and defense said whatever they needed to say. "Harsh words were exchanged and all grievances were aired." Players were able to directly speak to accusations, and defend their actions.  Team members were called out if they were perceived as not owning up.
Only a portion of the 45 minutes was devoted to the Super Bowl failure. The balance of the time was spent on the real issue. The players felt they had let their teammates down. They knew they had not played as well as they were capable of playing. The article says it this way:
"Part of [the talks were about] the Super Bowl, and the fallout, but most of it was just—we didn't feel like we've reached the sustainable level of success we know we're capable of," says Baldwin. "It wasn't even necessarily about football. It was more about our responsibility as teammates to each other."
"It was: What are you going to fight for? And how are you going to fight for it?"
That is the magical part of peer-to-peer accountability. The team collectively focuses on what's really important. What's the goal? What's our mission? How will we work together to achieve it?
And what's so beautiful — they aren't counting on Pete Carroll, they are holding each other accountable. I love what Lockette had to say:
"You felt a reassurance," says Lockette, "that we're going to start this year on a clean slate and do everything we can to get back to where we were. And win it."
If your team has experienced a significant failure, think about how you might use the Seahawk's model to increase peer accountability. *(I wouldn't try this without a facilitator – at least not the first time). Get them to open up about everything – including who they feel is at fault. Create a space where they feel safe saying whatever is on their heart and mind.
Most importantly, let them work it out, without you in the room.   They have to do this work with each other. You will notice that Pete Carroll, and members of the coaching staff weren't invited!
Successful teams don't rely on leaders to hold them accountable, they hold each other accountable.
I'd love to hear your thoughts. Please share your comments.
Deneen Grant is a Leadership Strategist, Culture Expert, and founder of Progressive Leadership Group. Progressive Leadership Group partners with CEOs and Senior Executives to put the Right Leaders, in the Right Roles, with the Right Skills – creating thriving, high performing, and profitable organizations.