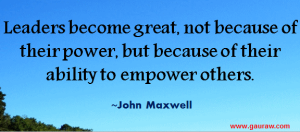 Avoiding a Collision with Growth (part 4) – Talent Leadership
I want to thank my faithful readers for making it through this 4 part series. We began part 1 by drawing an analogy between my Dad's car collision (he's fine), and a growing company colliding with growth (READ PART 1). The 2nd and 3rd installments discuss 2 key leadership skillsets (Visionary Leadership, Cultural Leadership) that must be in place in a growing company (READ PART 2 and PART 3).   In this 4th and final installment, we will talk about another must have skill for leaders in a growing company. That skill is "Talent Leadership".
Most people are familiar with the term talent management, but I prefer to use the term talent leadership. A person I worked with a while back use to say – "You manage inventory, but you lead people".  True statement!!
What does it mean to lead talent?
You need more people as your company grows. To keep people engaged and thriving takes talent leadership. Talent leaders are great at: motivating, recognizing and rewarding, aligning, managing performance, coaching, growing, and developing their team members.   As a result, they develop teams who are engaged and committed to helping the leader and company achieve their goals.
Talent leaders are born, not made!
In a growing company, it's typical for managers and leaders to advance through the ranks. The senior accountant becomes the CFO. The best software developer is now a software development manager.
People may be great individual contributors, but talent leadership is a skill. It's something the leader must have a passion for, and honestly, not everyone is cut out to be a leader (of people).
In a 2015 poll, Gallup surveyed 7,200 employees and found that 50% left the company because of their managers. That's not a huge surprise, given that they found only 3 out of 10 managers have the natural or coachable talent to become great at managing (leading) people. This proves that leaders are born with natural leadership ability. Thank you Gallup for validating what I've always believed in my heart!
The Gallup survey determined that the best talent leaders: motivate their employees, assert themselves to overcome obstacles, create a culture of accountability, build trusting relationships and make informed, unbiased decisions for the good of their team and company.  Of the managers they assessed, they found only 10% displayed all five talents.
If you are having trouble keeping new hires, you may have fallen prey to the error of putting a strong individual contributor into a leadership role that doesn't fit their skills or passion. All of the leadership training, coaching and performance management will not turn someone into a skilled talent leader. Leaders should come from the 30% of managers who possess the natural or coachable talent to be strong, effective leaders.
How to get it right
It all comes down to a standard, with clear requirements for anyone who leads people.
Here are some steps you can take to ensure you have talent leaders in your organization:
Clearly define the leadership roles and requirements needed to support the growing company.
Develop a skillset/competency model for all leadership roles.
Objectively assess the current leaders against the new requirements to ensure all leaders have experience and/or ability.
Develop people leadership skills through coaching and training (for those who can be coached).
Make leaders accountable by measuring and rewarding talent leadership effectiveness.
Provide clear expectations and consistent feedback (yes – even at the senior leadership level).
Make the necessary staff changes (add experienced leaders; develop training plans; make internal moves).
Ask employees how their leaders are doing.
Your company will only grow to the extent you are able to attract and retain the right talent. Setting a standard for talent leadership is the key to successful growth.
Summing it up
So there you have it, the 3 critical leadership skills that will keep your company from a growth collision. They are: Visionary Leadership, Cultural Leadership, and Talent Leadership. If you are diligent about incorporating these critical leadership skills, your company will move down the road to long-term success.
Nothing will get in your way!
Let's have a dialogue. Please share your feedback with me, and with others!
Deneen Grant is a Leadership & Culture Strategist and Managing Partner at Progressive Leadership Group. Deneen partners with CEOs and Senior Executives to put the Right Leaders, in the Right Roles, with the Right Skills – creating thriving, high performing, and profitable organizations.